Components of Stargent IoT Platform
Our solution delivers substantial time and money savings to businesses by enabling users to remotely monitor and protect their assets around the clock using our online dashboard and mobile apps. Our web apps support installation to PC/Mac desktop, iOS or Android smartphone or tablets. Using a progressive web app ensures users are always running the most recent version and are installed directly from a browser, eliminating the need to hand out constantly-changing links to any app store.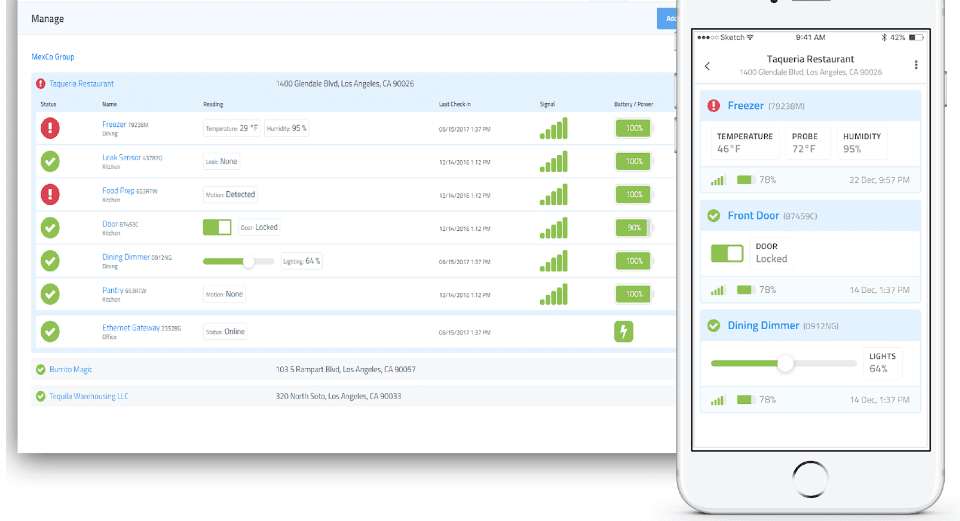 Manage Companies, Locations & Devices
Remotely monitor all of the businesses and locations that need managing from a single dashboard. Using our Web or Mobile Apps you can contemporaneously get an overview of the status of any location or device. Stay at a high level to get an overview of the location, or drill down to view current device status or access a history of readings.

Receive notifications when sensor readings deviate from normal. Our Alert system allows for customization of alerts – you control the conditions for alerting, who gets notified, and during which hours someone is to be notified (such as working hours and after hours contacts). Recipients can be notified by Text or Email message.
Ease your regulatory and compliance burden by recording actions taken and adding notes for follow-up tasks for alert occurrences. Choose from a list of default Actions or add custom actions on the fly. Our system maintains a history of all alerts, notes and users involved for delivery and download in reports.

Receive automatic Daily, Weekly or Monthly reports for device activity at any location. These comprehensive reports give you device summary, reading charts and a history log of sensor readings – perfect for maintaining compliance logs. Create as many reports as needed, each with their own recipients and delivery options. A history of past reports is also available for download at any time.

Corrective Action Reports

: Receive automatic Daily, Weekly or Monthly reports for devices for corrective actions taken. These corrective action reports give you a summary of devices and alerts involved, actions taken in response and a list of any notes for follow up tasks recorded – perfect for compliance reports for regulations and inspectors. A history of past reports is also available for download at any time.
Regulatory Reports

: Ease your regulatory compliance burden with detailed reports that show date/time of readings, recorded temperatures, temperature thresholds, range status, and corrective action(s) taken for out of range readings.
Incident Reports

: Receive a summary of push-button tracking device security and safety incidents. These reports contain a summary for each incident including details such as personnel involved, contacts notified as the incident transpired, and the times and locations where the incident started and stopped.
Predictive Maintenance Reports

: Receive a summary showing the status of preventative maintenance sensors which use vibration and artificial intelligence technology to help determine when a system needs to be repaired or replaced before an eventual breakdown.
Easily view the status and position of your gateways & sensors on a Google Map or Image (such as a floorplan or photo of the location). Drag & drop icon markers to their correct position at the location and tap on them to pull up details on current status

Asset Tracking
Use a combination of GPS trackers and location-based beacons to help satisfy State and Local Governmental requirements for employers to protect against workplace harassment and violence. Easy-to-use push-buttons and room-level accuracy provide the ability to locate staff in an emergency.
Customized Markers
Customize sensor map pin markers to adjust their appearance or replace the pin marker and show sensor data values directly on the map. Pin or sensor data values can also animate and play a sound to call attention to alert conditions on the map.