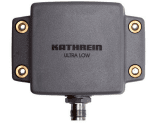 Kathrein Mid-Range 100° RFID Antenna - 52010083
Non-returnable
MIRA-100-circular-FCC Mid Range Antenna, 902-928MHz 2,5 dBic, circular TNC-socket
Compact design.

Small dimensions.

Integration is possible in applications where space is limited.

Various transponder types are possible to use.

Suitable for use in industrial environments.

Use in transition range between near field and far field applications.

Suitable for bulk and single-tag applications.

High IP 67 degree of protection.

Suitable for outdoor use.
| | |
| --- | --- |
| Mount Options: | |
| 52010351 | Wall/Pole Mount Kit for new ARU/RRU, Stainless Steel, Outdoor |
| 52010368 | Pole mount adapter for 52010351 (Requires 52010351) |
| Cables: | |
| 52010174 | 3 Meter TNC-TNC R Antenna Cable |
| 52010175 | 6 Meter TNC-TNC R Antenna Cable |
| 52010176 | 10 Meter TNC-TNC R Antenna Cable |
| 52010177 | 15 Meter TNC-TNC R Antenna Cable |
| RFW-14362-79 | 2 Meter, RP TNC -TNCR, Antenna Cable. For use with ARU 3500 and RRU 4500. |
| RFW-14362-158 | 4 Meter, RP TNC -TNCR, Antenna Cable. For use with ARU 3500 and RRU 45004 |
| RFW-14362-237 | 6 Meter, RP TNC -TNCR, Antenna Cable. For use with ARU 3500 and RRU 4500. |
| RFW-14362-394 | 10 Meter, RP TNC -TNCR, Antenna Cable. For use with ARU 3500 and RRU 4500. |
| 52010461 | 1 Meter, TNC- FAKRA, Antenna Cable. For use with ARU2400 and RRU1400 Only |
| 52010462 | 3 Meter, TNC- FAKRA, Antenna Cable. For use with ARU2400 and RRU1400 Only |
| 52010463 | 5 Meter, TNC- FAKRA, Antenna Cable. For use with ARU2400 and RRU1400 Only |
| Tags: | |
| Tag Options | Tags based on the use case |