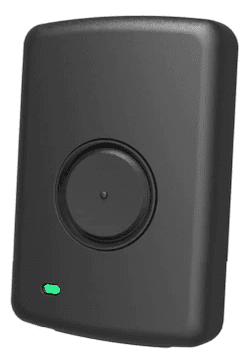 GlobalSat Panic Button
The new MY-501H Panic Button from GlobalSat has a front-facing panic button. The GlobalSat Panic Button is specifically designed for both indoor and outdoor location tracking using both BLE and GPS technology. It is compact, light, and easy to use. The device is also equipped with a rechargeable battery to provide basic power usage. IP67
Product Features
Support LoRaWAN™ Class A/ Class C
Outdoor / Indoor geo-location
Long-distance transmission
Regular/ Real-time tracking by remote configuration (Report interval with default 12 hour, Enable/ Disable GPS, Buzzer, Ping)
Built- in 3 axis accelerometer for motion detector Built in BLE for beacon (Indoor positioning)
Support buzzer for alert (Default:OFF)
Support vibrator for alert (Default:ON)
1 button for both power-on and Panic function
1 orange/green LED for indicating LoRa status
All payloads, including periodic heartbeat, panic or another mode, it sends BLE Beacon and GPS (along with whether there is a good GPS fix or not).
Support downlink command to turn on/off Sound, Vibration, GPS, BLE
1. Double click panic button (Can be enabled/disable) Should be Enabled by Default 2.
2. Downlink command (Can be enabled/disabled)