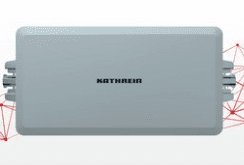 WRA 3070-Wide Range Antenna, FCC - 52010584
WAR 3070-Wide Range Antenna, FCC 902-928MHz
The WRA 3070 antenna are characterized by a high antenna gain and at the same time very low axial ratio for circular polarization, for optimum reading of transponders in all orientations, even at great distances. For applications in which the reading range must be selectively detected despite a long range, the antennas are focused in the horizontal direction to an aperture angle of 30°. This makes the WRA 3070 the ideal antenna for gate applications and lane-selective detection for vehicles. For easier installation, the antenna already has two brackets integrated to mount the antenna directly to gantries or poles with hose clamps.
▪ Ideal for fare-field applications up to 20m
▪ Very homogenous reading field
▪ Selective 30° beam focused in horizontal plane mounted as shown in the picture
▪ New compact design for ruggedized environmental applications, but also, for shop floor use cases
▪ Mounting brackets for pole or gantry mount included
▪ Prepared for 3D mount kit (100 x 100mm)
▪ High IP67 degree of protection
▪ Suitable for outdoor use
▪ Available for Europe, US and RoW
▪ Manufacturing and Automotive
▪ Intelligent Transportation Systems
▪ Service and maintenance
Data Sheet.
| | |
| --- | --- |
| Mount Options: | |
| 52010261 | MK-WM-100-100-Indoor wall bracket |
| 52010351 | MK-WPM3-OSS Wall/Pole Mount Kit for new ARU/RRU |
| 52010368 | Pole Mount Adapter for 52010351 |
| Cables: | |
| 52010174 | 3 Meter TNC-TNC R Antenna Cable |
| 52010175 | 6 Meter TNC-TNC R Antenna Cable |
| 52010176 | 10 Meter TNC-TNC R Antenna Cable |
| 52010177 | 15 Meter TNC-TNC R Antenna Cable |
| RFW-14362-79 | 2 Meter, RP TNC -TNCR, Antenna Cable. For use with ARU 3500 and RRU 4500. |
| RFW-14362-158 | 4 Meter, RP TNC -TNCR, Antenna Cable. For use with ARU 3500 and RRU 45004 |
| RFW-14362-394 | 10 Meter, RP TNC -TNCR, Antenna Cable. For use with ARU 3500 and RRU 4500. |
| RFW-14362-237 | 6 Meter, RP TNC -TNCR, Antenna Cable. For use with ARU 3500 and RRU 4500. |
| 52010461 | 1 Meter, TNC- FAKRA, Antenna Cable. For use with ARU2400 and RRU1400 Only |
| 52010462 | 3 Meter, TNC- FAKRA, Antenna Cable. For use with ARU2400 and RRU1400 Only |
| 52010463 | 5 Meter, TNC- FAKRA, Antenna Cable. For use with ARU2400 and RRU1400 Only |
| Tags: | |
| Tag Options | Tags based on the use case |